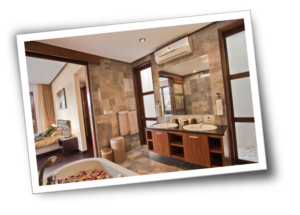 Remodeling a bathroom requires more skill and knowledge than general remodeling due to the electricity work and plumbing that is often involved. Depending on the amount of remodeling you are planning, you might want to consider hiring a professional. This page offers a guide on how to remodel a bathroom.
Remodeling a bathroom can be quite expensive due to the electricity and plumbing that is often involved, especially if you have water damage, mold or other problems to address. You might also choose to remodel a bathroom for aesthetic or practical reasons, or to increase the value of your home. Regardless of the reasons, make sure you make a clear and detailed plan before starting the remodeling.
Step 1: Make a Plan
First, determine what parts of the bathroom you wish to remodel and how. Then make a budget to see what is financially feasible for you.
Estimate the total costs of the remodeling and make a budget.
Talk to a professional about you plan
Expect surprises. Unexpected costs can pop up when you start demolishing the bathroom and discover water damage or mold, leaks in pumps or other damages that require extensive remodeling.
Step 2: Consider Hiring a Professional
Remodeling a bathroom is more complicated than other areas of a house because of electricity and plumbing considerations. A bathroom needs to be constructed so that it's resistant to mold and water damage that might occur due to dampness in the room. Depending on the amount of remodeling you are considering, it might be wise to hire a professional.
If you want to save money, you can hire a professional for parts of the work and do the easier parts yourself.
Plumbing and electricity work is best done by a professional, unless you have extensive knowledge of it yourself.
If you are tearing down walls, tile or other main structures, it's best to hire a professional who knows how to construct the bathroom so it's dry and protected from water damage.
For more information on hiring a professional, visit our pages on Painting Services or Plumbing Services.
Step 3: Get Ideas
Since you might not remodel the bathroom again for years to come, don't rush into it. Consider different types of designs and colors.
Consult interior design magazines or other home design sources for ideas.
Choose colors, materials and patterns you will be satisfied with for years.
If you are considering selling your home in the near future, don't get too creative with colors or materials.
Make sure colors of tile, floors and walls work together design-wise.
Step 4: Precautions and Preparations
To ensure a safe and satisfactory renovation, make a plan and follow safety guidelines.
If you are working with a professional, make sure they are certified.
Evaluate how long the renovation will take and plan accordingly. Make a structured plan of each step, taking into account waiting times such as time for paint to dry.
Follow instructions and safety recommendations for the tools and materials you are using.
Find out how to handle possible lead and other hazardous materials and how to get rid of them.
Disconnect the power, cover power wires and disconnect appliances.
Research all aspects of remodeling for exact instructions on various steps, such as how to paint.
The Remodeling
The steps of remodeling a bathroom should be done in a specific order. Although all renovations will not include all of these steps, the general order is as follows:
Plumbing, electricity and installations of a tub and shower is done first.
Drywall is installed next.
Painting is next.
Cabinets are installed before floors.
After flooring, the toilet is put in place.
Smaller renovations are done last.