Get to know Coopersburg Construction: rooted in the Valley, growing with purpose.
If you want to understand a company, you should look to how it got to where it is today.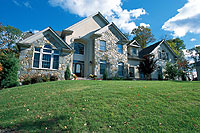 Coopersburg Construction began in 1975 as Fred Derby & Son Plumbing. Having lived in Coopersburg for more than 50 years, it was a natural place for Fred to start a business. As the area got to know the Derbys and their work, they began branching out into other parts of the Lehigh Valley.
Throughout the housing boom of the 1980's, the scope of work the company handled began to change. The focus on plumbing began to expand and soon renovating and building homes was accounting for a large part of the business. The Derbys purchased and developed several tracts and land at about the same time I-78 opened, giving commercial interests in the Valley even more room to grow.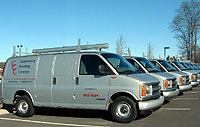 A reputation for quality and a favorable construction market added to the company's evolution and by 1988, Coopersburg Construction Company was incorporated. President Fred Derby led the company into further growth in the 1990's and created two divisions that complemented the main construction business — Coopersburg Painting & Paperhanging and Coopersburg Plumbing Company.
Today, the company counts more than twenty employees, a fleet of two dozen silver trucks, and four decades of thoughtful growth as indicators of its stamina and success.
Years of construction experience equate to thousands of days of work. Countless hours of labor. And unlimited opportunities to learn and lead. Over that time, Coopersburg Construction's people have come to know the business inside out, upside down and backwards.
Our Mission is to provide the finest level of customer service and highest quality construction projects by recruiting and retaining dedicated, conscientious and professional employees.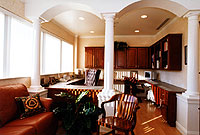 Our team is comprised of true craftsmen — people who go the extra mile every day to ensure that the job is done correctly and on time. We have a corporate-wide commitment to excellence, unparalleled neatness and attention to detail. There is also a top-down insistence on the highest quality materials. Because of this approach, Coopersburg Construction continues to win new customers while earning repeat business.
Affiliations
In our business, it really is who you know.
That's why Coopersburg Construction counts the following associations as part of our trusted network of professionals:
Lehigh Valley Builder's Assn.
PA Builder's Assn.
National Assn. of Home Builders
Lehigh Valley Chamber of Commerce
Better Business Bureau
National Ground Water Assn.
EnergyLoan from AFC First
Generac Dealer
Lennox Industries Dealer
Rheem HVAC Dealer
American Standard HVAC Dealer
Jacuzzi Dealer
Marlo Water Treatment Dealer
Mohawk Carpet Dealer
Congoleum Flooring Dealer
ATS Water Treatment Dealer